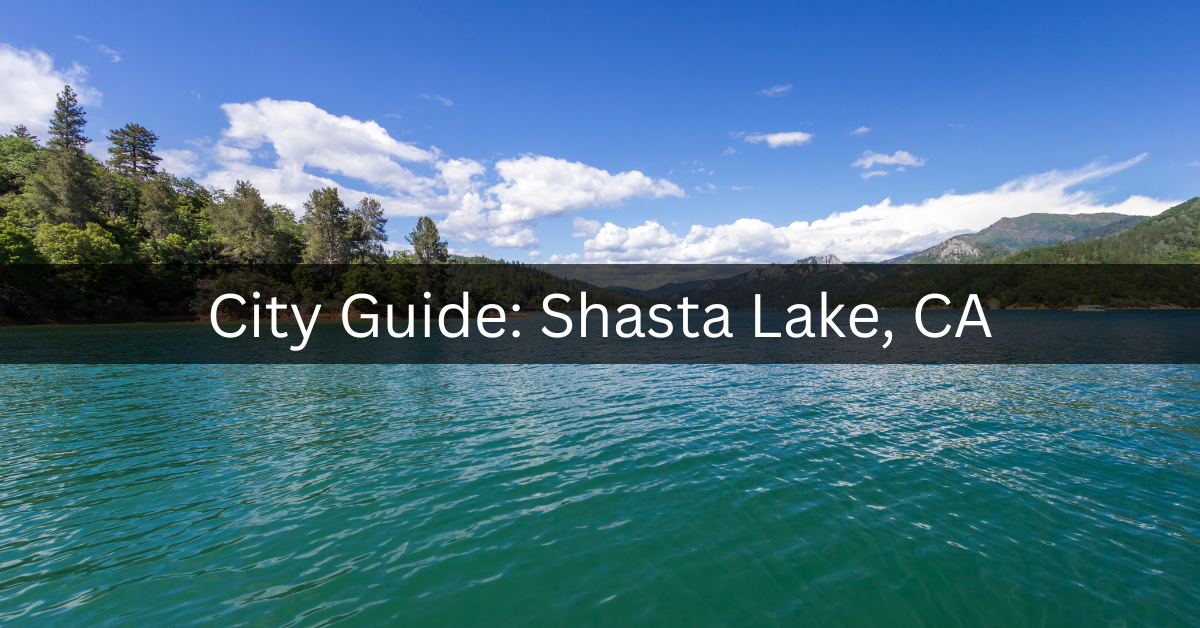 Located in the Central Valley of northern California, Shasta Lake is a community of about 10,000. Located near Shasta Dam and the Shasta Lake reservoir – at 30,000 acres it's the largest in California – this popular tourist destination is a draw for boaters, campers and anglers.
Mt. Shasta's snow-capped, 14,000-foot peak looms over the community's scenic resorts and marinas. Tours showcase the dam, the second-largest concrete dam in the country; and underground caverns 250 million years in the making.
Shasta Lake's median household income is $50,000. Its median property value is $183,000.
Shasta Lake, CA Population & Demographics
The median age of Shasta Lake's residents is a mere 39 years old. It's not a very diverse community, with a population makeup of 79.5% White, 10% Hispanic and 5.5% multiracial.
More than half of Shasta Lake residents are married.
The ratio of patients to clinicians in Shasta County is 1,334 to 1.
Cost of Living in Shasta Lake, CA
If you're thinking about moving to this community, you might be wondering about its cost of living. Shasta Lake's $183,000 median property value falls well below California norms, and below the U.S. average. Property taxes typically fall between $800 and $1,500 per year. Nearly two-thirds of Shasta Lake residents own their homes.
Costs for most goods and services – groceries, housing and transportation – fall below national norms. But utility costs and health care outpace state and national averages.
The typical one-way commute for Shasta Lake residents is 20 minutes, below the U.S. average. Most households own two cars.
Check out the local real estate market in Shasta Lake by clicking here.
Shasta Lake Weather
Shasta Lake is hot in the summer – with July temperatures averaging 97 degrees – but mild the rest of the year. Low temperatures bottom out at 38 degrees in January. Shasta Lake's climate is more comfortable than most places in California.
If you want snow, you may want to consider living in Oakdale, NY.
Things to Do in Shasta Lake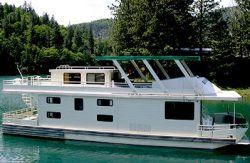 This friendly marina operates what it calls the Toy Box, the largest small boat rental center on the lake. With a fueling station, store and restaurant overlooking the lake, Holiday Harbor Cruising is a full-service operation.
20061 Shasta Caverns Rd., Lakehead, CA 96051
Oasis Fun Center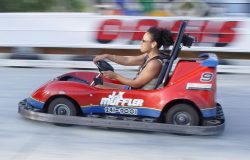 What fast-paced fun does Oasis Fun Center have in store? Buckle up and hold on tight: Go carts, laser tag, a 3-D amusement park ride simulator and bumper boats. Not to mention miniature golf, a Laser Maze and an arcade. It's all built around Oasis Speedway, a lighted, 800-foot track complete with banked turns.
3330 Cascade Blvd. #2217, Shasta Lake, CA
Restaurants in Shasta Lake
Old Mill Eatery & Smokehouse
4132 Shasta Dam Blvd., Shasta Lake, CA 96019
https://www.omesmokehouse.com/
Old Mill is a breakfast and lunch restaurant known for generous portions of smoked barbecue. It's open daily and serves breakfast all day, from delectable omelets to French toast to biscuits and gravy. Come for the food, stay for the endless mimosas and bloody Marys.
4132 Shasta Dam Blvd., Shasta Lake, CA 96019
Heritage Coffeehouse
Pouring lattes and pouring resources into the community is Heritage Coffeehouse's passion. The owners put more than a dash of ministry into the mix, which also includes coworking space and a menu stuffed with "Cali fresh" sandwiches, salads and bagels.
4302 Shasta Dam Blvd., Shasta Lake, CA 96019
Shasta Lake, CA Statistics & Information
Shasta Lake covers nearly 11 square miles in three ZIP codes: 96019, 96079 and 96089. It's located in Shasta County and in the Pacific time zone. Its elevation is 810 feet. Shasta Lake wasn't incorporated as a city until 1993.
Jobs in Shasta Lake, CA
Shasta Lake's largest industries are health care/social assistance, retail and education. The highest-paying industries are information ($85,000), utilities ($49,000) and construction ($48,000). Fewer than half of Shasta Lake's residents – about 4,000 – are employed. The unemployment rate hovers around 7 percent.
The community's per capita income ($23,000) and median household income ($50,000) fall below national averages.
Looking for a job in Shasta Lake, CA? Click here for the Indeed link to positions open in the area.
Shasta Lake, CA Schools
Shasta Lake is home to five schools: a K-5 elementary, a K-8 school, a K-8 School of the Arts, and two high schools. All are part of Gateway Unified School District. Local schools invest $9,500 in each student per year, below the U.S. average of $12,000. The student-to-teacher ratio is 21:1.
Pros & Cons of Living in Shasta Lake, CA
Pro: Affordability

Con: Wages

Pro: Scenic beauty and outdoor adventure

Making a move to Shasta Lake? Hire Shasta Lake's best rated professional moving company to ensure an easy transition! Give Lee's Moving a call today at 530-357-2389 to discuss your move! 

Moving out of Shasta Lake long distance? Visit our Partners at National Van Lines.

Tags: california living, Cost of Living, Jobs, Local Businesses, Schools, Shasta Lake, Things to do, What to expect


Categorised in: City Guide