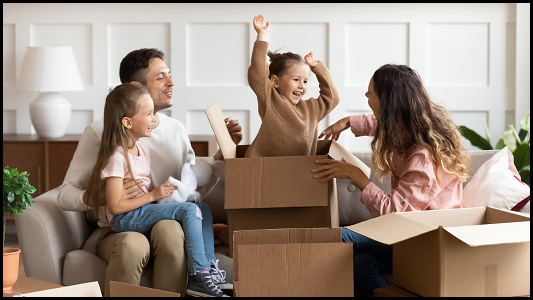 There's plenty of advice out there about packing for a cross country move, but what about unpacking tips?
The internet is rife with packing tips, but what about moving in? "Unpacking" is a physical activity, but it's also a psychological exercise. You'll find the best unpacking starts with thinking well before acting.
Anti-anxiety action
The thing about unpacking that probably generates the most anxiety is not knowing where to start first. That's why organizing is so important.
Preparing for moving in really starts with the moving-out stage. Think of it as a pre-step in our unpacking tips (along with estimating the cost of moving).
So, before your long distance movers even arrive to pack up your belongings, you should be thinking about unpacking in your new home. That's why we recommend you create a "load last—unload first" carton for each family member.
Before B4
This preparation step enables everyone to separate essentials until the last minute and immediately make available those things they'll want when arriving at your new home in what your consider a good neighborhood. Children find this especially comforting once your cross country moving has concluded.
Pack a travel kit, including eyeglasses, contacts, contact solution, first-aid kit, prescriptions and medications. When you're moving cross country, you don't want to have to hunt for these items while on the road.
Pack a complete set of bedding for each bed (mattress pad, sheets, pillows, pillowcases, blankets and spread) in its own separate box. Mark the box clearly for the specific room/bed. This facilitates making the beds in your new home.
Request your moving company place the children's items last on the moving truck. That way, the crew will unload kids' belongings first at your destination. Setting up the children's rooms right away creates a safe haven for little ones while you're busy unpacking and placing items throughout the rest of your home.
Just one more thing…
We've almost reached our full-fledged set of unpacking tips, but just one more thing…
Don't forget: You're responsible for checking off inventory item numbers as your long distance movers bring furniture and boxes into your new home. It's important to take that responsibility seriously—it's proof of delivery.
On delivery day: Immediately inspect the contents of any boxes exhibiting exterior damage. If packed items have been damaged, save the carton and packing material for the moving company claims adjuster.
Prep time
Once you arrive at your new home, direct your movers to unload and place items into appropriate rooms, and be careful to place tarps or protective rugs over carpets and hardwood floors to prevent damage. Check outlets, switches, appliances and plumbing. Locate your breaker box, water shutoff and water heater.
Unpacking schedule
As noted previously, not knowing where to begin probably elicits the most anxiety when contemplating unpacking. One way to avoid this trepidation is to not think about your whole home at once. Instead, divide a potentially ginormous project into "bite-sized" mini-projects.
One way to take a big step forward is by creating an unpacking schedule. This timeline provides digestible chunks instead of one anxiety-provoking mammoth project. Identify which tasks will work best for your situation. Are you thinking room by room? Or, maybe removing only the most-important items within each room first is a better plan for your situation.
Clearly labeling your boxes at the packing stage makes all the difference: Mark each box by contents and intended room. Put boxes in the correct room to facilitate the unpacking process. You then can progress room by room, checking off each "conquered" room as you go.
Big 3
The pretty-much-universal Big 3 rooms to tackle first are kitchen, bedroom and bathroom. But even within those super-important areas, there's a pecking order. For kitchen, you're best-advised to make sure the fridge is plugged in and unpack food before organizing your pots and pans, for example.
For the bedroom, think about how good it will feel to sink in to an assembled and made up bed. A bathroom with the shower curtains hung and ready for action will certainly be welcome at the end of moving-in day. Towels and toiletries placed in their respective areas also is a good idea.
Enjoy
Finally, begin settling in!
To make your new living areas more familiar, display family pictures—even begin brightening up bare walls with artwork, wall decor and photos. Contact family and friends. Let them know you've safely arrived. Greet your new neighbors.
Enjoy your new home.
Zero Hassles
Moving doesn't have to be a hassle! Let Lee's Moving provide you with packing and crating, loading and unloading, and local or long-distance moving for your home or business. We handle everything with care, so you can have peace of mind and confidence in choosing our team to help you. We're proud to carry the AMSA ProMover certification and offer senior and military discounts. If you're looking to move, make sure to contact Lee's Moving for a free estimate: 530.357.2389. You'll be glad you did! We'll make sure you get the attention you deserve and the service you expect.

Tags: unpacking


Categorised in: moving day, Moving Tips, Packing Tips