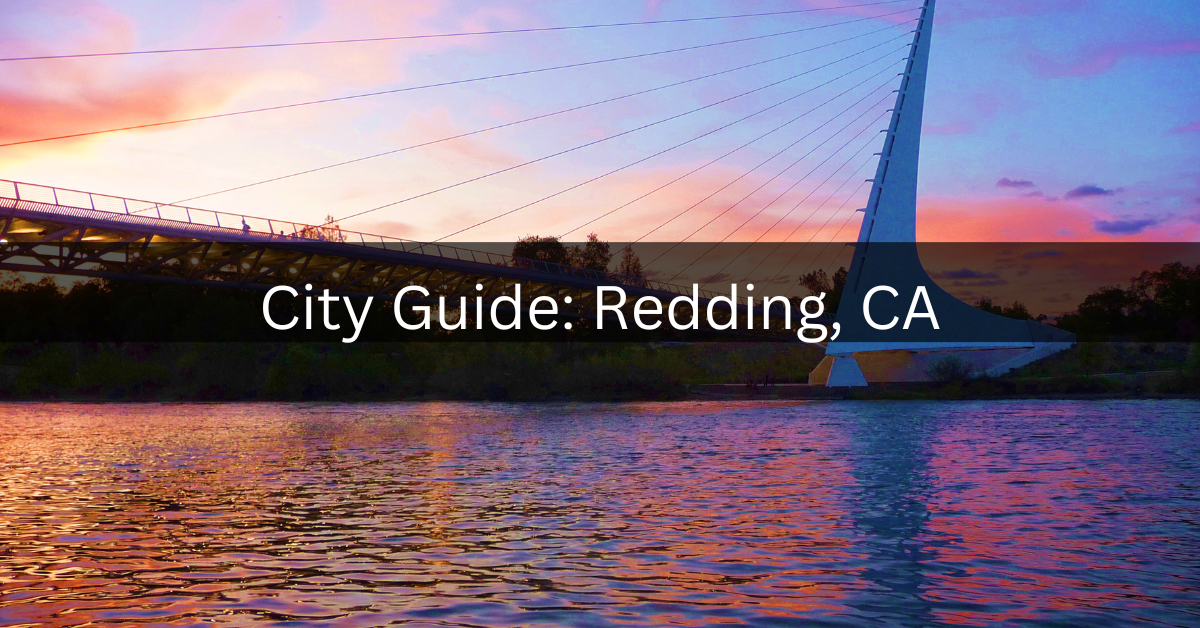 Redding, CA is a northern city in the state of California, located in Shasta County. Redding is about 162 miles north of Sacramento and 120 miles south of the Oregon-California border. Redding was known as Poverty Flats during the Gold Rush in that region in the 19th Century, but the name was changed to Redding in 1868, after the first land agent of the Central Pacific Railroad Benjamin Bernard Redding.
Population & Demographics
The 2019 population of Redding was 91,580. Redding is not a very diverse place to live, with a demographic breakdown of 77% White, 10.7% Hispanic and 4.95% Asian. Married couples account for 44.9% of households in Redding, and 63.1% of homes in Redding house families. Wondering if Redding is a safe place to live? Total crime in Redding is 47% higher than the national average.
Redding, CA Cost of Living
If you're thinking about moving, you are probably wondering how far your money will go in Redding. Is Redding affordable? Of course, this will depend on your earning potential and lifestyle, but overall, Redding is 7.9% more expensive than the national average! Housing in Redding is 22.4% higher than the national average. Transportation in Redding is 9.2% lower than the national average, and groceries are about as expensive in Redding as the national average.
Homeownership in Redding is above the national average. In Redding, the homeownership rate is 54.2%, lower than the national average is 64.1%. Estimated median sale price for a home in Redding is $399,000 which is an increase of 15% since last year! Homes in Redding are selling in about 48 days on the market. Click to see what's going on with the Redding real estate market.
In Redding, approximately 35.8% of people rent their homes. The average rent cost in Redding is $1151 a month, which is less than the national average of $1302.
Redding, CA Weather
Redding's climate is considered to be Mediterranean Climate, which means it has very hot and dry summers and wet, cool winters. On average, Redding sees about 34 inches a year of precipitation. The average low temperature in January is 36.5 and the average high temperature in July is 98.4.
Hard to believe, but San Antonio, TX actually has cooler summers than Redding, with an average July temperature of 95 degrees!
Things to Do in Redding, CA
There are plenty of recreational options for the residents of Redding. Here are some of Redding's residents' favorite places to go:
Sundial Bridge
One of the largest working sundials in the world, Sundial Bridge is a public art installation and pedestrian bridge that connects the north and south campuses of the Turtle Bay Exploration Park and crosses the Sacramento River.
844 Sundial Bridge Dr., Redding, CA
Whiskeytown Lake
With clear water and several wildlife species, Whiskeytown Lake offers recreational activities such as fishing, camping, biking and swimming. Come see the bald eagles!
Whiskeytown Lake, CA
Additional Things to Do in and around Redding
• McConnell Arboretum & Botanical Gardens
• Shasta State Historic Park
• Waterworks Park
Redding, CA Restaurants
There are many great restaurant options living in Redding. Here are a few of the best rated places Redding residents love to dine:
Woody's Brewing Co.

Family-owned and operated, Woody's Brewing Co. is always winning award after award for its beers and venue. With an extensive menu and even more extensive beer list, Woody's is a great choice for everyone!
1257 Oregon St., Redding, CA 96001
Cattlemen's Steakhouse
Serving delicious steaks and more, Cattlemen's Steakhouse was founded 50 years ago by father and son ranchers. All the beef at Cattlemens is aged and hand cut!
2184 Hilltop Dr., Redding, CA 96002
Redding, CA Map
See what Redding has to offer by checking out the map below.

Redding, CA Statistics & Information
Redding is the county seat of Shasta County. Redding's zip codes are 96001, 96002, 96003, 96049 and 96099. The elevation of Redding, CA is 564 feet. Redding is in the Pacific Standard Time Zone. The area of Redding is 61.17 square miles.
Jobs in Redding, CA
The median household income in Redding is $54,278 per year. Great news – salaries in Redding increased by 7.31% from 2018 to 2019. The most popular jobs in Redding are office and administrative support, sales positions and management occupations. The biggest industries that employ Redding residents are health care and social assistance, retail trade and accommodations and food services. About 17.5% of Redding residents live below the poverty line, which is above the national average of 12.3%. The demographic most affected by poverty in Redding is women between the ages of 25 and 34.
The average commute time in Redding is about 15.5 minutes, which is well under the national average of 25.5 minutes. About 82.2% of Redding residents choose to drive alone to work rather than carpool, and nearly all Redding households own two cars. Will you be working in Chico and living in Redding? Your commute will be a breeze! Click here to see what the 73.4 mile drive from Redding to Chico will be like.
Looking for employment in the Redding area? Click here to check out what is currently listed in Redding on Indeed.com. Would you prefer to work for a municipality? If you would rather be employed by the City of Redding they are hiring! Click here to see what positions are currently available.
Schools in Redding, CA
Redding is served by the Redding School District. The top-rated schools in Redding are Mountain View Middle School, Grant Elementary and Enterprise High School. If parents prefer to send their children to private or parochial school, there are 77 in Redding. Students will also have access to the Redding Library, part of the Shasta Public Library system.
Living in Redding Pros & Cons
• Pro: Good Schools
• Pro: Cost of Living
• Con: High Crime Rate
Moving to Redding? Hire Redding's best rated professional moving company to ensure an easy transition! Give Lee's Moving a call today at 530-357-2389 to discuss your move!

Tags: Cost of Living, Jobs, Redding, Schools, Things to do


Categorised in: City Guide