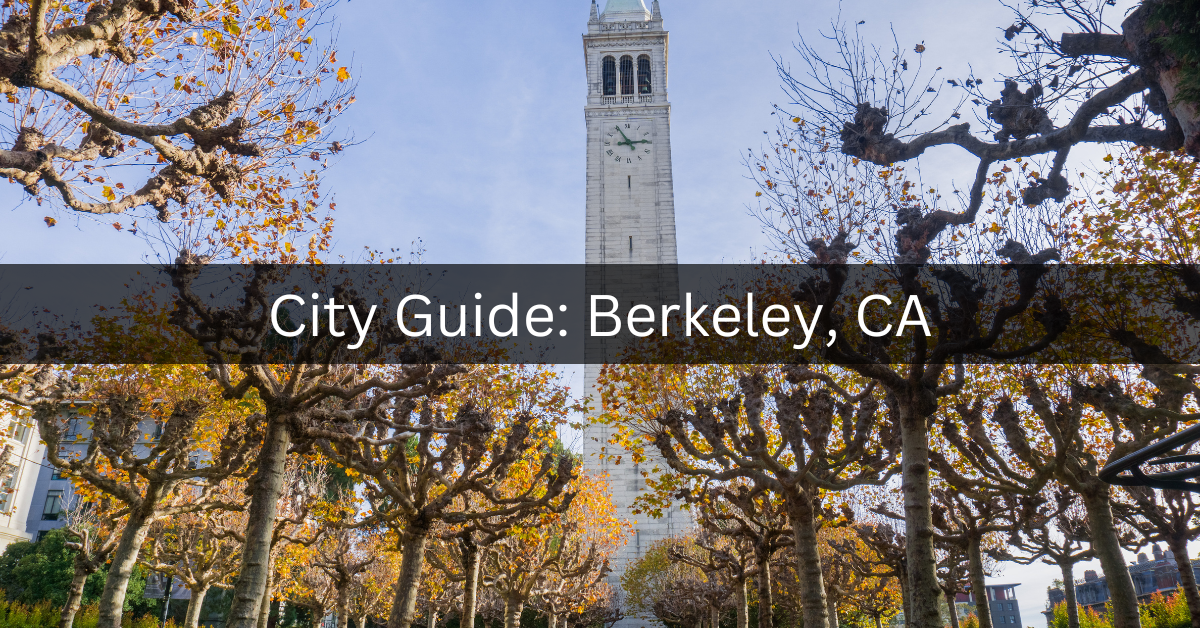 The Ultimate Moving to Berkeley Guide
Berkeley is a city in northern California close to the east side of San Francisco. It is located 200 miles from Redding. It is about 14 miles north of San Francisco and 80 miles from Sacramento.
Berkeley, CA, POPULATION & DEMOGRAPHICS
The population of Berkeley is 117,145. It is somewhat of a diverse place with 50.3% white, 20.3% asian, and 12.4% hispanic. Married couples account for 34.82% of households in this city. Wondering if Berkeley, CA is a safe place to live? The overall crime rate is higher than the national average 
BERKELEY, CA COST OF LIVING
If you are considering moving to Berkeley, the cost of a home is higher than in most places in the United States. With the hot housing market, the median sale price of a home in Anderson was $1,062,292 in August, according to neighborhood scout. So you're wondering how far your money will go in this market? The average median income in Berkeley is $$97,672.
Housing is higher than the national average and groceries are slightly higher.
About 42.89% of residents own a home in Berkeley, that's much lower than the national average of 65.4%. With the hot market, homes sell in about 17 days.
Click here to see what's going on in the Berkeley real estate market.
There are 58% of people who rent.
The average apartment rents for about $3,275 a month.
The average commute is 28.7 minutes.
Berkeley, CA WEATHER
One of the great benefits to Berkeley is the California weather. The average temperature in July is 72 degrees. The city gets 25 inches of rain a year and 0 inch of snow.
THINGS TO DO IN Berkeley, CA
There are plenty of things to do in Berkeley with the city of San Franciso only minutes away. Here are a few ideas
 The University of California Botanical Garden
This institution features beautiful scenery. 
200 Centennial Dr, Berkeley, CA 94720
Berkeley Marina
With all the heat in California, it's time to cool off at the marina. Enjoy the cool breeze and ocean view!
Other things to do:
Berkeley Restaurants
There are many great places to eat in Berkeley, here are a few to check out:
La Note
Delicious French cuisine for breakfast, lunch, and dinner! Check out the open garden!
Eureka!
Check out this hip dining spot with a fantastic burger and bar scene!
Rick & Ann's Restaurant
Rick & Anns's is focused on serving you food made with locally sourced ingredients!
BERKELEY, CA MAP
BERKELEY, CA STATISTICS AND INFORMATION
Berkeley is located in Alameda County. Its zip code is 94701. The elevation is 171 feet and it is 17.71 square miles. It is in the Pacific Time Zone.
BERKELEY JOBS
The median household income in Berkeley is $97,834 a year. The most popular jobs in Berkeley are in science, tech and sales. The poverty rate in Berkeley is high at 17.6%. That is above the national average of 11.6%.
Taxes are cheap with an average of $300 to $1,000 a year.
The average commute time is about 30 minutes. There are 32.3% of people who drive alone, while 6.4% carpool.
Click here to see what the drive is like from Berkeley to San Francisco. 
Click here to see work in the Berkeley area.
SCHOOLS IN BERKELEY, CA
Some of the top schools in Berkeley are . There are 47 public schools in Berkeley and 24 private school. Click here to learn more about the Berkeley public school system.
The top colleges in the area include USC Berkeley. Top degrees there include computer science, engineering, and mathematics
LIVING IN ANDERSON, CA PROS & CONS
Pro: Large city and jobs nearby.

Pro: Good schools in area.

Con: High Crime
NOW HIRE THE BEST

If you want to move to Berkeley, CA, Lee's Moving is the one for you! We're a professional and trusted moving company, and we can help you move to your next adventure! Give us a call at 530-357-2389. If you are looking to move away from California, don't worry! Because we are a partner of National Van Lines, we can move you anywhere!

Watch out for fraudulent movers and moving scams! Here are some tips on how to avoid being a victim of a moving scam.

Tags: Berkeley, california living, Cost of Living, Jobs, Local Businesses, Schools, Things to do, What to expect


Categorised in: City Guide