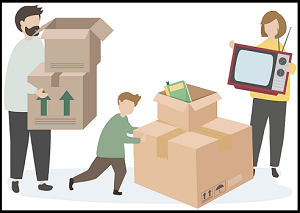 You've planned and packed (and maybe even procrastinated a bit) for this event, and now it's arrived: moving day!
The big moving truck parks in front of your house. The driver and his crew jump out and approach your doorway.
What should you expect?
Moving day M.O.
Remember our cross-country movers are professionals—first and foremost. They're masters at their craft (and terrific guys to boot). So, expect smiles, superior service and expert answers to all your questions. Feel free to ask for resources, checklists, timelines or moving guides these national movers have on-hand. Also, during these unprecedented times, be assured your National Van Lines agents, such as Lee's Moving, will employ the safest measures for a SAFETY-minded move.
You should expect your belongings to be transported carefully. This is the hallmark of national moving companies such as National Van Lines agents. Some items—including your vehicles—might even require above-average TLC. These specialty moving items include pianos and other musical instruments as well as fine art or expensive electronics.
Cross country moving companies offer an array of custom crates, packing materials and info about valuation coverage (not the same as insurance). You also should receive what's called a "bill of lading" that lists items being moved before leaving your old home.
Walk through
But… before shutting that front door one final time, travel room-to-room and thoroughly examine all your rooms. Don't risk leaving behind a family heirloom or other cherished item by forgetting to look inside a cabinet or closet. Turn off lights and any other unnecessary utilities. Also, double-check your fridge is defrosted and dry. Are those garbage and recycling containers empty?
And… before stepping over the threshold of your new home, you'll want to contact all your future utility companies so your house is lighted, heated and the gas stove is ready to fire up for cooking a celebratory pizza.
Pet project
Traveling with dogs, cats or bearded lizards? Make sure they're confined to a single location in your home to protect them from fast-moving feet during the pack-it-on-the-truck frenzy. Give Fido the best-possible transportation experience by checking out our bow-wow-worthy tips for taking your best friend on a cross-country move.
In the personal-care department, you'll want to make sure you've prepared an arrival bag packed with those first-night/new-home must-haves: medicines, toothbrush, toothpaste, soap, shampoo, pajamas, toilet paper, etc. Also make sure you travel with important documents, including prescriptions. Never place those in a box for your professional movers to transport.
We're off…
You'll likely enjoy moving day more if you treat it like a big adventure. After all, you're closing and opening new chapters in your life. Traveling by car? You'll want to ensure your vehicle maintenance is up-to-date, including oil changes and radiator flushes. Check the tire wear and pressure. You also can prevent wear-and-tear on your ride by using a professional automobile-moving service. Flying? Wear comfortable clothing and store first-night essentials in your carry-on luggage.
Moving often affects kids differently than adults, particularly based on whether they're pre-teens or adolescents. Keep them occupied during the big day with driving games, movies and books in addition to their smartphone-centered universe.
Home sweet home
When your movers arrive at your new home, maximize your move-in experience by instructing the driver and moving crew where to unload and place items. Protect carpets and hardwood floors by covering them with tarps or protective rugs. It's also a good idea to locate the breaker box, water shut-off site and water heater.
Call family and friends and tell them you've arrived safely. Say "hello" to neighbors. Welcome home.
Zero hassles
Moving doesn't have to be a hassle! Let Lee's Moving provide you with packing and crating, loading and unloading, and local or long-distance moving for your home or business. We handle everything with care, so you can have peace of mind and confidence in choosing our team to help you. We're proud to carry the AMSA ProMover certification and offer senior and military discounts. If you're looking to move, make sure to contact Lee's Moving for a free estimate: 530.357.2389. You'll be glad you did! We'll make sure you get the attention you deserve and the service you expect.
Categorised in: moving day